Dear AerOn Studio user, we would like to inform you about the latest features of AerOn Studio, Visual Radio and SmartRadio.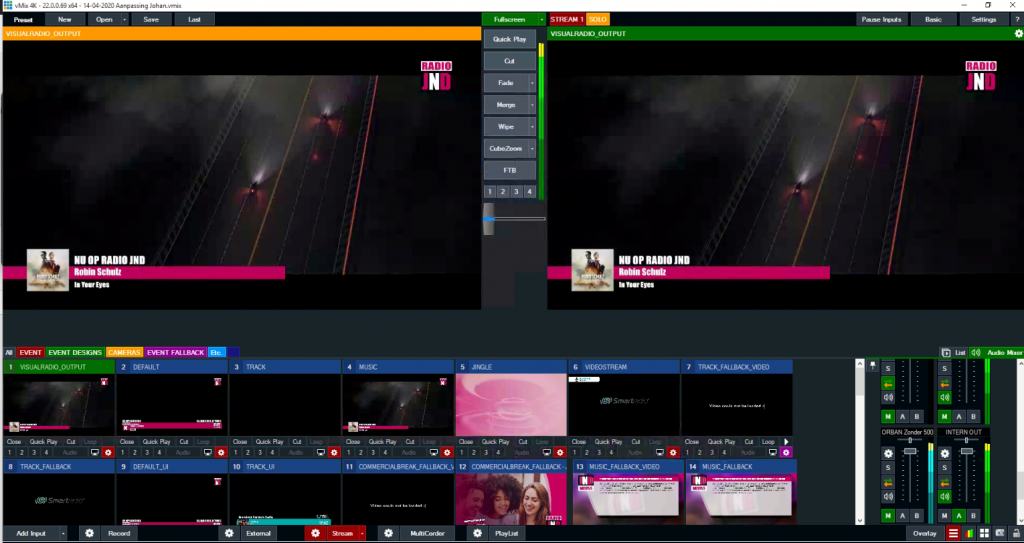 More and more broadcasters have a desire to add a Visual Radio product to their broadcasts.
It is now possible to deploy a completely integrated solution with the AerOn Studio license for Visual Radio.
For this, we worked in consultation with clients on AerOn Visual Radio in collaboration with vMix.
It is now possible to combine audio tracks with a video track. Music clips can be played with now-on-air info but also with, for example, a live ticker tape with news messages, which runs through the image by means of a scroll.
Of course, displaying a station logo, the time and other info is also possible. Automatic audio triggering of microphones is also present. This provides a completely automated video direction and always has the right presenter or guest in the picture.
Manual operation is also possible, of course! Get informed about these latest opportunities from one of our sales colleagues. In addition to the software solution, we also have various options in terms of cameras and other preconditions available leading to a complete solution!
In addition to AerOn Studio software development, we also work on SmartRadio, our web- and cloud-based platform. There are several options available in this that, when combined with AerOn Studio, lead to new possibilities. Smart Processing, for example; a cloud-based as-a-service solution that provides perfect Orban modulation processing in subscription form. Cloudbased means that licensed software can be installed in your own existing hardware environment and deployed as needed. The very latest Smart Scheduler is also available standalone web-based and offers countless possibilities. Not only in combination with SmartRadio but also with AerOn Studio to schedule your own format with numerous criteria, rules and exceptions. More and more broadcasters are working with temporary theme channels; SmartRadio can provide this by broadcasting an additional program alongside AerOn Studio, linked to the existing database. The Smart Scheduler can be operated from anywhere, provided IP connectivity is available.
Smart Scheduler, full option
Starting your own radio station from the cloud has never been easier! With SmartRadio, everything can be handled in a snap web-based. Uploading, editing, voicing tracks, as well as fine-tuning all the tracks in the Chrome browser. Without latency!
Perfect in these days of mostly remote production! Ask for a demo of the desired features from your sales contact. We are happy to show you these possibilities!
Web-based 4 channel mix editor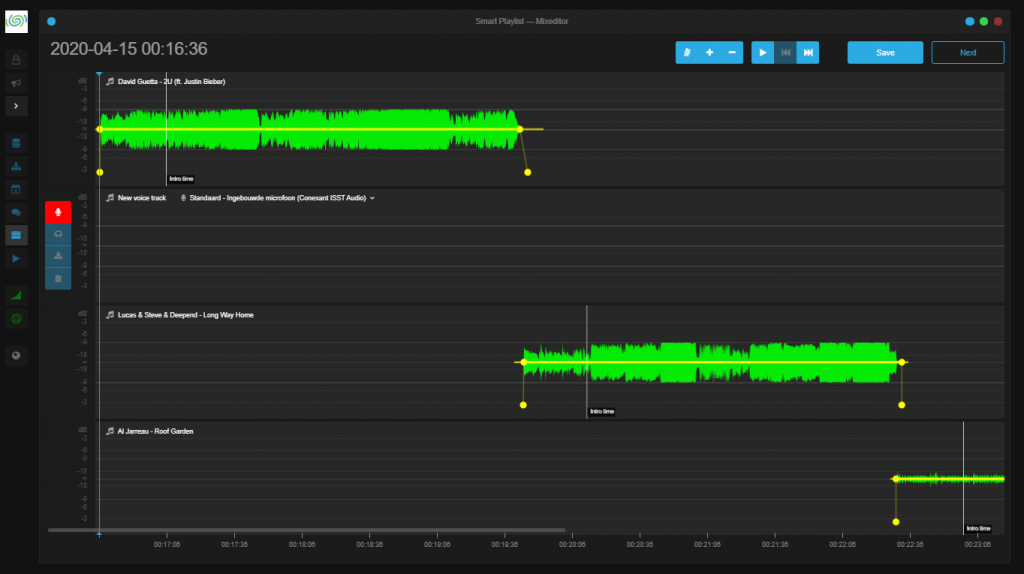 Finally, please find attached an overview of AerOn Studio's release notes, which will be available for download and use starting Monday, April 20. The name of the release is: AerOn RC 1.13.4.20. On section we describe in outline the changes:
AerOn Event:
– With an AerOn Event license, you can now work 24/7 as a Slave studio.
Automation:
– After requesting a studio during a long program item (1 hour or longer) it could happen that this item was also started in the studio where the request took place, this is now no longer possible.
Commercial Planner:
– The Export Offset, for checking/comparing the start time in the playlist and the block time in the commercial block, used when re-exporting commercial blocks, has been made adjustable. For broadcasters using all six blocks per hour, the previously standard export offset of 10 minutes proved too high.
See also: