SmartRadio is a cloud- and web-based radio-as-a-service platform and is developed in-house by Broadcast Partners. SmartRadio offers 100% software-based solutions. This enables clients to launch a production environment relatively simply without expanding and/or setting up the physical hardware and engineering in-house.
The trend being set globally, and boosted in part by COVID-19, is that functionality must be hybrid and increasingly available remotely. The solution that makes this possible is the virtual installation of services that can be remotely controlled in a user-friendly way in SmartRadio. Recent published articles in Radioworld, among others, which frequently report on webinars and virtual meetings, increasingly discuss these technical possibilities and explain user cases.
SmartRadio follows this philosophy entirely and consists of several hybrid modules that can be adjusted monthly. The price here depends on the chosen functionality. The benefit of this is that operational costs fall and there is more financial room for innovation. Technically, SmartRadio consists of several microservices that can be set up publicly and privately cloud-based on demand and according to the customer's wishes.
Through a very user-friendly web interface in the Chrome browser, work can be done in SmartRadio and custom solutions are possible. Database track imports and changes, playlist control, scheduling of formats and commercials is all web-based real time possible. Mixpoints in playlists can be adjusted in the 4-channel Multitrack editor if desired, with the required audio listened to in the browser without latency.
In the latest release of SmartRadio, a link with the software package AerOn Studio has been realized. It is now possible to let AerOn Studio's database and format planner be leading, if desired. This creates the possibility for current AerOn Studio users to deploy SmartRadio services for launching themed channels or edition system or window programming.
Previous publications around SmartRadio have also presented the possibility for virtualized audio processing. SmartRadio exclusively includes an impressive solution developed in collaboration with Orban (Labs): Smart Processing. This completes the chain to a CDN or DAB+ headend and allows all presets and changes to this product!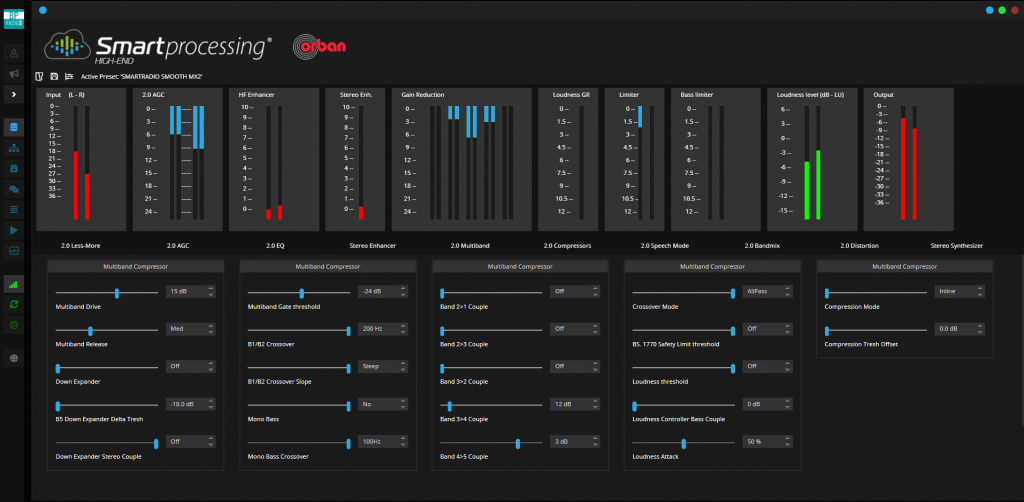 For more information: www.smartradio.nl or email info@smartradio.nl