We spoke to Sander van Strien, TV program leader & head of technology, and Michel Pruijmboom, program producer & radio program leader about recent developments at RTV Altena.

RTV Altena Foundation is the local broadcaster for the municipality of Altena. On a daily basis, residents in Altena are informed of developments in their neighborhoods through television, radio, internet and social media. Current area news, local politics, regional sports achievements, conversations with people in the neighborhood, church information, and regional calendar announcements. Altena TV and Radio A-FM ensure that residents know what is going on in their area. With its own newsroom and feelers in the 21 cores, a full media offer is provided for viewers and listeners in the municipality of Altena.
What is your motive?

With a club of enthusiastic volunteers, television, radio and online content is created daily for residents of the municipality of Altena. The bar is set high for ourselves so that we can provide quality video and audio content to residents. Informing viewers and listeners at a good level and with enthusiasm for the area is our main drive.
What target group does RTV Altena serve?

The target group of RTV Altena Foundation, with the brands Altena TV and Radio A-FM, are all residents of the municipality of Altena who are interested in local news. Years ago, we at Radio A-FM stopped broadcasting specific target group programs such as country, classical or Dutch-language to keep ourselves interesting to a wide audience. We believe in a broad format consisting of local news and a fine mix of music to increase listening length. On Altena TV, the target audience is broader since the cable newspaper provides residents with local coverage on a variety of topics. All this is complemented by interesting photo and video material from the municipality of Altena. Viewers' appreciation of Altena TV has increased significantly in recent years.
What are the highlights of RTV Altena for you?
In the past we have organized 'The Glass Window' several times for 3FM Serious Request. These actions yielded a high final amount each year in which we raised as much money as possible from Dussen and Sleeuwijk by making live radio and television. Our coverage on TV and radio of the municipal elections and the creation of the merged municipality of Altena are also highlights. On television, there is more and more room for content programs. Last summer we made a series of broadcasts from a bird-watching hut in the countryside in which the presenter talked to interesting inhabitants of the municipality of Altena. On the radio, our weekly Saturday afternoon sports program, with many reporters along the line, provides the ultimate sports experience via radio.
How did you end up with Broadcast Partners? And what have you recently updated about your studio?

With the plans to move our operations from Hank to Nieuwendijk, we started looking for a supplier for our studio furnishings. We found this at Broadcast Partners. Tailored advice with the wishes of all volunteers included. The studio equipment at the old location was dated. For example, they were still working with a mixing desk that dated back to the founding years of a previous broadcaster. The look and feel of the new radio studio has been completely upgraded with furnishings, studio furniture and operating equipment. The heart of the transmitter, the broadcast line, has had a smaller upgrade.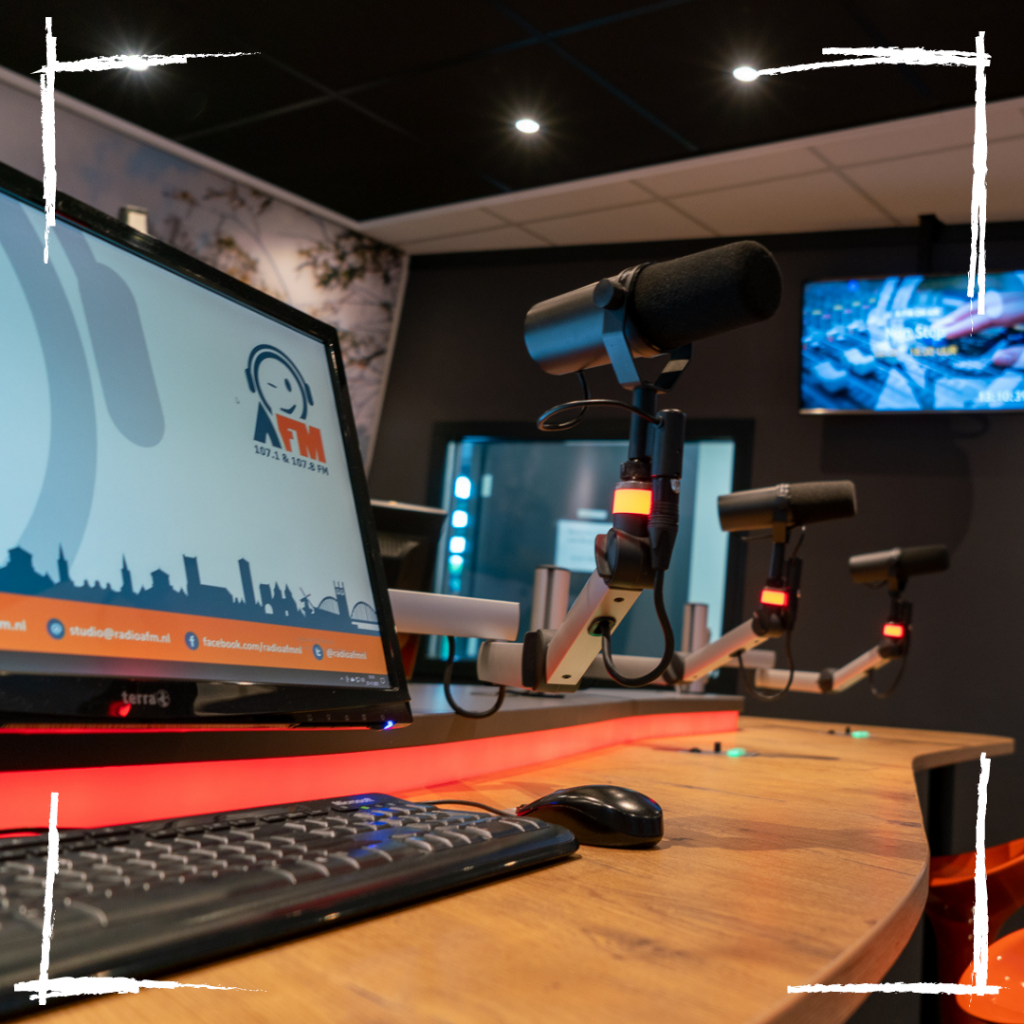 How do you like the products, can you tell us a little more about them? What do the products add for your studio?

We opted for a new mixing console. The digital D&R Axum offered the solution for our needs. Because we as a broadcaster hybrid work with programs where DJs themselves operate the buttons, but also with programs where a technician shifts, this mixer is ideal. Three screens are placed at the workstation of the technician or programmer. Two screens for AerOn and one screen for the rest of the necessary software. AerOn is connected to the Axum via AoIP (Dante). The second workstation can be used by the co-host, but in our sports program this is where the presenter does his work. If guests join, there are three more seats on the opposite side. The shape of the furniture makes it ideal for an interview, debate or entertaining radio program. There is always a view of each speaker. Each presentation place has a Shure SM7b with its own voice processing. The shape of the studio furniture and the choice for M! ka microphone and screen brackets makes the studio also suitable for camera registrations or podcasts.

How do you like working with Broadcast Partners?

Broadcast Partners was able to create the right circuitry needed to combine equipment we already owned, as well as equipment in need of replacement, into this finished product. We chose to do the installation of the equipment ourselves. As a result, we built up product knowledge, so that in the future our own technical department will also know what to work on in the event of a malfunction. The support from Broadcast Partners took place remotely.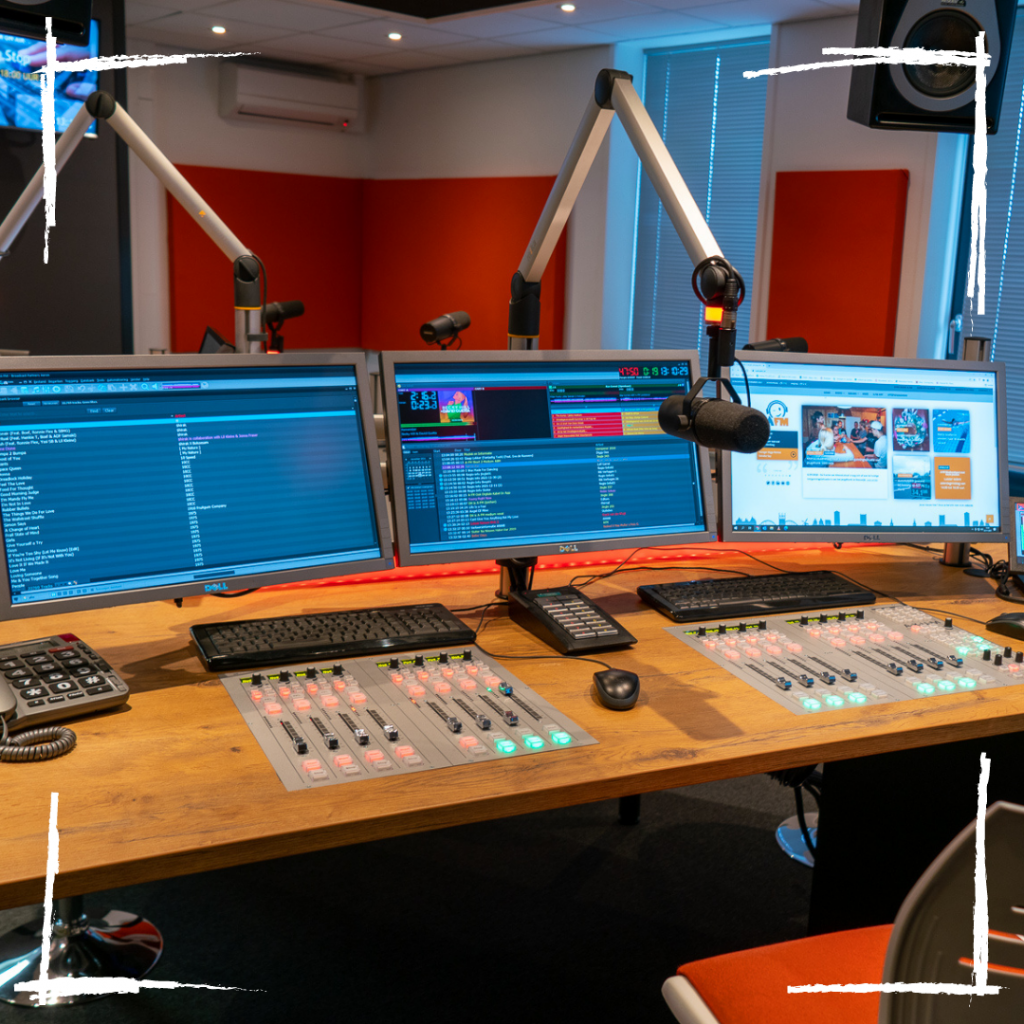 What are your further future plans?

In 2019, our broadcaster officially received the broadcasting license for the new municipality of Altena. In the coming period, for radio, we will further expand our station park with a third FM frequency in the former municipality of Aalburg. We also want to further expand radio programming by broadcasting created content from radio and television at multiple times. For television, it is important to expand the club of volunteers and provide them with the right equipment to produce video content.